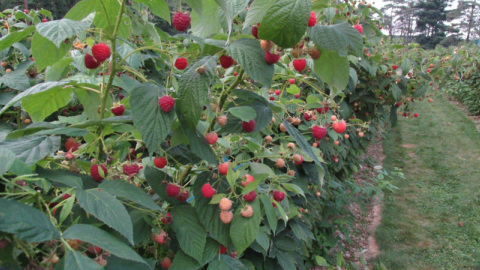 Current Picking Status
Updated 10/01/15 @ 9:30pm
Pick Your Own Raspberries
,
Blackberries and Flowers Picking hours the week of Sept. 28th:
Mon. - Sat. 9am -5 pm
Closed Sunday
Fall Red & Gold Raspberries

This time of year the raspberries taste especially delicious. There are still some beautiful berries to pick although not as plentiful as the picture. A couple of hard frosts will finish off the season, but until they're yummy. $3.45/lb
Please bring your own suitable containers.
Cut your own Flowers
-The cool weather seems to have brought out the brilliance in the colors. Make a bouquet for yourself or someone else. Many kinds of flowers are still available to make beautiful cottage bouquets.
Blackberries
-There are a limited number of late blackberries still available. We will have them until we get a couple of hard frosts.
T
his schedule may be modified depending on weather and berry supply. We suggest you check back here for updates or call us at 717-677-8188. We have a recorded message but try to answer the phone as much as possible.
Please bring suitable containers to transport berries home. Picking buckets are supplied for your use in the field.
See
Freezing Berries
on Recipe page for easy freezing instructions.
---
Our Email List


Join our email list to receive a timely notice announcing when our berries are ripe and ready to pick. Everyone gets busy and its hard to know exactly when fresh berries are in season. Our reminder won't let the great picking season slip by you. We will also send you mid-season picking updates, recipes and notices of any specials. If you received our emails during the 2014 season, and have not changed your email address, you will remain on our E-Berry List for 2015. If you have changed your email address, update us via the Mailing List tab at the top of this page and we'll gladly update our address book so you don't miss our emails. To join our E-berry list,

click here

or click the Mailing List tab at the top of the page to sign up today.

Recent comments by customers:


"Just a quick note to let you know I made 15 jars of jam after visiting your lovely farm yesterday. I still had enough to freeze some for future use and then make a delicious smoothie for Madeline and myself. The flowers I picked are perking up every room where I have placed them. They are stunning. Thanks for sharing all the goodness you grow with me and your many other satisfied customers." Susan S.

"Yesterday I made sundae in a jar, white chocolate raspberry jam, and chocolate raspberry dessert topping. The other day was golden raspberry jam, red raspberry syrup, old fashioned red raspberry, and no sugar red raspberry jam " Melissa G.

"My boys, Gabe and Nick, loved visiting Molly and petting her. She is one of the only dogs they have ever felt comfortable with and enjoyed petting! They even had their picture taken with her and it is framed and on our wall! They enjoyed time with her and Ciego earlier this year and enjoy recalling stories from previous picking seasons with Molly as well as how Ciego came to be yours. Thank you so much for sharing your beautiful farm and it's bounty with us and also sharing of yourself and pets. Our lives are richer and happier because of you! We appreciate your hard work and the example and inspiration you are for others." Marina P.

"I wish you weren't so far away!" Robin W.

"I won the 5lb berry picking donation you gave for Strawberry Hill last year. I picked for the first time on Labor Day. Your farm is wonderful." Sylvia W.

" Came and picked berries, had a great time" Sonya M.

"Thought you'd like to know that Bethany won first place at the fair for her white chocolate blueberry muffins with blueberries that we picked from you!" Lisa S.

"We enjoyed picking berries tonight. The ice cream was a nice surprise." Jenny G.

"We had a wonderful visit at your farm on Saturday. Our son Aya would not stop talking all day about going back to the farm every week. We all had so much fun." Sissi H.

"Thanks for the lovely blackberries, and the yummy ice cream treat.
We appreciate all you do there to make it a great place for berry picking." Elizabeth F.



Fall Red and Golden Raspberries

Our raspberries ripen over about a 6-8 week period beginning in early August. They begin slowly, then as the season progresses, more and more fruit ripen at the same time. The peak of our raspberry season (when the greatest number of fruit is ripe at the same time) is about the third week of August thru mid September, depending on the weather.

How do we have raspberries so late in the summer and into the fall? Our raspberries are fall raspberries, (also called everbearing). We prune them for a fall crop only, producing fruit in late summer and early fall when temperatures are generally a little cooler and more pleasant for picking than the normal summer raspberry season.



---

Thornless Blackberries

Our blackberry plants have NO THORNS. That's why they're called Thornless, and picking is painless. There are berries to pick from your knees to as high as you can reach on the rows of trellised blackberries. In between the rows we keep the grass mowed like a lawn for easy walking. We want you to enjoy picking the berries as much as you enjoy eating them. The blackberries are large and delicious. The picking season normally starts about the last week of July and lasts until about mid September. the peak of the season is most of the month of August.



---

Blueberries
Our pick your own blueberry patch is irrigated and netted. The pick your own blueberry season begins in early July and lasts until about mid August. The peak of the season usually extends from about the 2nd week of July thru the end of the month.

Cut your own Flowers

from Catherine's Flower Garden We grow several kinds of flowers for cut your own flowers including Sunflowers, Zinnias, Queen Anne's Lace, Snow on the Mountain, Gypsophilia, Marigolds, Salvia and Cosmos. Flowers are sold by the bouquet and larger quantites for those looking to make arrangements for weddings and other occasions. If you are a bride-to-be and looking for an economical solution to bridal flowers, consider cutting your own flowers and enlisting your bridesmaids help to make the flower arrangements and bouquets. Make it a fun bridesmaid event! Our flowers are available to cut from early July until a hard frost. The types of flowers available vary thru the summer season.

---




---